Hi, I'm Ericka !

Affectionately nicknamed ✨Sunshine✨, I turned my career as a Public Health Professional into my passion as a Health Coach. I lost 28 pounds, 18% bodyfat and 11 inches off my waist in 5 months. I also gained back 13 pounds of lean muscle!

I excited to EMPOWER YOU!

I've been there, confused about healthy food, what to do at the gym and wondering about how much I have to spend on this "new body"... Deciding to lead a healthy, active lifestyle can be challenging, especially if you're doing it alone. With me, you are never alone! My team and I have created a network of support to help motivate and empower women to help them find their inner beauty.

Together, we will help other women like us free themselves from their mental bondage to emotional eating and build a HEALTHY relationship with food while losing unwanted weight in 12 weeks.

But first, lets focus on YOU! ​

Why You...? Hell, why not?!

Basically, I am you! A Queen from a B I G city with B I G dreams of helping others and being paid to be me! I was able to turn my part time hobby into a full blown online business & happily retired from my 9-5 career at 27 years old!

I turned desire to be "fineeeeee before my graduate school graduation" into a paycheck. I learned to to turn my emotional eating into a weapon for good and my constant self doubt into system to build my

CONFIDENCE

!

I was worth the the upgraded version of myself, and so are YOU!
Powered by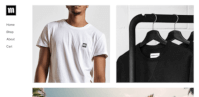 Create your own unique website with customizable templates.