Remember, you're not committing to a 12 week workout plan, diet, nor to be perfect. You are only committing to YOURSELF. You will gain radiant energy, embody self-confidence and most of all live a healthier lifestyle. The transformation challenge is detailed, easy to follow and also flexible.
In 12 weeks you will become a better friend, sister, spouse, and PERSON.
In this world, happy and healthy CAN coexist; You deserve to live a fulfilled life of both!
Powered by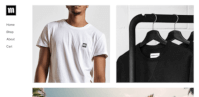 Create your own unique website with customizable templates.